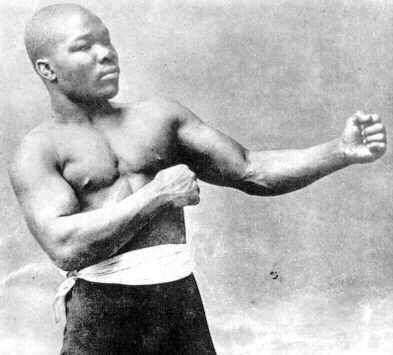 Joe Walcott, (March 13, 1873 – October 1, 1935) also known as Barbados Joe Walcott to distinguish him from the American known by the same name, was born in Demerara, British Guyana on March 13, 1873, and died October 1, 1935. Nicknamed "The Barbados Demon" Walcott, stood 5'1½ tall, was a formidable fighter who fought from 1890 to 1911. 'Barbados' Joe Walcott was the idol of the later 'Jersey' Joe Walcott, who chose to use his idol's real name as his own ring name in his honour.

Walcott spent part of his youth in Barbados. As a youngster, he set out to see the world and got a job as a cabin boy on a ship sailing to Boston. He soon settled in Boston as a piano mover, porter and other odd jobs. Later, he landed a job in a gym, and became popular with other boxers as a human punching bag before turning professional.

Walcott also fought the well known Sam Langford to a draw and met Joe Gans in a non-title fight. The Gans fight occurred on September 30, 1904, and was scored a draw after 20 rounds. After the Gans fight, Walcott accidentally shot himself in the hand during a New Year's celebration, effectively ending his days as a top prizefighter. While he would return to the ring in 1906 (losing his welterweight crown to William "Honey" Mellody in the process), Walcott never regained his old form, losing most of his subsequent fights.

Walcott was widely recognized as the best welterweight in the world long before he won the title. 11, 1902 Police Gazette stated, "From a techincal standpoint three or four fighters have been recognized as welterweight champion, but it was apparent to men who have knowledge of prize ring affairs that they only held that tile on sufferance because of an obvious desire to avoid meeting with a black man who was conceded to be their superior." Walcott won the championship on a fifth round stoppage of Rube Fern in Toronto, Ontario, Canada. The Gazette reported that Walcott turned "Fern into a jelly in five rounds.".

Such was Walcott's reputation as a fierce puncher that he claimed in newspaper reports that "Since no welterweight or middleweight will fight me I am compelled to go to the next class. Will any heavyweights fight me?" See Police Gazette Oct 13, 1900. Walcott issued challenges to Tom Sharkey, Gus Ruhlin and even champion Jim Jeffies, though they all declined to meet him in the ring.

Some claim Walcott's record is spotty. Research by Tracy Callis puts his record at 96-24-24 (62 Ko's) with 22 ND and 3 NC. Most however fail to realize that the many of his losses came after Walcott severely injured his right hand in a gun accident in late 1904. Initial news reports, such as the Oct 18, 1904 Philadelphia Record indicated that his hand might have to be amputated, although his hand was saved Walcott wasn't same fighter after this, and in fact he did not fight again for two years.

Mysterious Billy Smith was a very dirty fighter. In fact he lost 10 times on fouls. Smith was good enough to win the welterweight championship, and once beat Tommy Ryan, flooring him three times in the process, (it was ruled a NC because the police intervened when they saw Ryan was about to be ko'd). Smith also had a knockout over Kid Lavigne. Walcott and Smith fought numerous times with Walcott proving to be the much better fighter, winning 3 times, twice by Ko, with 2 draws, and one loss by decision.

Walcott's only significant losses were to George "Kid" Lavigne, and Dixie Kid. His fights against Lavigne were "handicap" bouts where, because of contractual agreements, Walcott was forced to come in greatly under his normal weight. Walcott, a natural welter because of his brawny build, trained down to 136 for the first fight which he lost on a 15 round decision. He had to "kill himself" to make the weight and was physically drained before the fight started. The second fight was for Lavigne's World Lightweight title, which means Walcott had to weigh 133 pounds (then the lightweight limit) on the day of the fight. Walcott had no strength and faded badly in losing by 12th round Tko. The loss to Dixie Kid is significant because Walcott lost the title, though by foul in the 20th round.

Sam Langford was already a great fighter by the time Walcott fought him to a draw. It was only two years later that Langford was able to go 15 rounds with future heavyweight champion Jack Johnson, and went on to become the most feared fighter in the world, knocking out nearly all the top heavyweights.

Three weeks after fighting Langford, Walcott fought lightweight champ Joe Gans to a draw. That is the equivalent of Delahoya fighting Felix Trinidad and the winner facing Shane Mosley within a month. Two weeks later Walcott badly injured his right hand in the aforementioned gun accident, yet he still was able to defeat many top fighters.

Perhaps the Chicago Herald-Examiner wrote a fitting epitaph on Aug 22, 1932 when Joe was hospitalized with a heart attack, "Some veteran boxing experts rate Walcott as the greatest fighter of his weight the ring ever knew. Only a "heavy" lightweight, Walcott earned the sobriquet "Giant Killer" by the easy manner in which he topped light heavyweights and heavyweights.".

A "Demon" bearing the description of an ancient, broken down, black fighting man with a Dr. Fu Manchu mustache is the unidentified victim of a car accident while walking on a lonely stretch of highway in this town of 26,000 people.

The "Demon" would have over 141 fights and would be recognized as World Welterweight Champion during the periods of 1901-1904. Coming to America on a ship, as a cabin boy, from porter to piano mover to pugilist this adventuresome "Demon" would engage legendary fighters such of the like of "Mysterious" Billy Smith, George "Kid" Lavigne, "Giant" Joe Choynski, "Philadelphia" Jack O'Brien, Dixie Kid, Joe Gans and Sam Langford, both of whom he fought to a draw. The "Demon" stood all of five feet one-and-half inches in his demonic fighting prime, weighed approximately 142 pounds, and had an amazing arm length and neck measurement comparable to most heavyweights.

The two first met on December 2, 1895. In the 10th round Lavigne's ear was hit so hard it swelled up like cauliflower and "a torrent of gore was spattered over both fighters and on those of the spectators who were sitting on the fringe around the ring. Then came another smash that cut the ear almost off and it dangled on Lavigne's neck, held by a few bloody tendons." In an epic ebb and flow battle, which amazingly went fifteen rounds, Lavigne was declared the winner. Boxing writers would later describe the fight as the greatest that the world had ever seen and "pure savagery.".

The second bout between the "Demon" and the "Saginaw Kid" was, pre-fight pageantry, befitting the historic first battle. The match, for the Lightweight Championship, took place on October 29, 1897. It should be noted the "Demon" was forced to reduce down to a weight lighter than his usual fighting prime. The fight was a war. It took place before a packed house of 10,000 fans giving tribute to both fighters:.

By the 11th round the "Demon" was taking such a beating, with little by way of offensive response, that his manager threw in a sponge signaling the end of the fight. Lightweight was not an effective weight for "Demon" campaigning.

As noted, the "Demon's" glory years were yet to come, in winning the Welterweight Championship, and as befitting a fighter of the time the years were busy of pugilistic endeavors. From early 1899 through August of 1900 the "Demon" would engage in seventeen consecutive fights before losing to Champion Tommy West. In 1902 the "Demon" would engage in ten fights and in 1903, leading up to the "Demon's" Welterweight Championship run, he engaged in sixteen bouts over a ten-month period.

"Madison Square Garden is a dim, cool place in the afternoon, full of shadows that blot the outlines of the battle ring and fuse the endless rows of empty seats into banks of dusk. Footsteps echo loudly, folks usually talk in whispers in the amphitheater that by night blazes with light and rocks to the roars of fight frenzied multitudes. There are dim figures too, in the corridors, mostly twisted old fellows with mops and pails of suds, washing floors for a meager hourly wage. There are others dusting the walls, wiping the glasses in huge pictures that show the likeness of the late Ted Rickard, John L. Sullivan, Dempsey, Fitzsimmons, Corbett, Jack Johnson, Joe Gans and hosts of almost forgotten warriors of the ring. Only one of the chatmen hangs to himself, whistles occasionally, chuckles at his work. He's a short, chunky, happy negro with arms that stretch down to his knees. His shoes are almost without form, his trousers baggy, misshapen. A gray checkered coat sweater, fitting his arms all right, stretches down to his knees in incongruous fashion. Diligently he wipes pictures and woodwork with a dirty cloth. A shapeless cap on the back of his black hairless head, a grin on his wide, flat features. Yet this happy, harmless negro, 58 years old and glad of the chance to work at menial tasks is Joe Walcott, the Barbados Demon, perhaps the greatest fighter that ever lived.".

"No man in the last 30 years has had a more wonderful, more colorful ring career than did the Barbados negro, whose remarkable fighting ability, whose terrific hitting power and whose ability to stand the most terrible blows without flinching made him the marvel of the age. I have seen the greatest fighters that have flashed along the pugilistic horizon for more than 40 years. I have managed and trained or instructed many more ring marvels. Yet I feel and can honestly say that for his weight and height Joe Walcott was the greatest fighter of them all. Strictly speaking, there were few, less than a handful of Supermen of the Ring, but when one records the history of such fighters it wouldn't be complete without the name of Joe Walcott rated among them.".

Bert Sugar, in "Boxing's Greatest Fighters," ranked this "Demon" number twenty-six. The Ring Magazine would go on to rate this "Demon" as one of the top one hundred greatest punchers. The International Boxing Research Organization would rank this "Demon" as one of the greatest welterweights and a top twenty-five pound-for-pound fighter of all time.

While legends may fade in memory and name, stories of the name, in this case the "Demon", remain to the legend. That is what we do, the storytelling, and when so told, perhaps maybe, just maybe, some younger individual dreaming of boxing tomorrow, will look at boxing yesteryear remembering rightfully those of the glorious past of the best sport.

Reference
Barbados Joe Walcott. (2014). Retrieved on April 27, 2014, from http://en.wikipedia.org/wiki/Barbados_Joe_Walcott.
Joe Walcott, The Barbados Demon. (2014). Retrieved on April 27, 2014, from http://coxscorner.tripod.com/walcott.html.
October of "The Demon". (2014). Retrieved on April 27, 2014, from http://www.boxing.com/october_of_the_demon.html.
Bajan Reporter. (2014). Barbados had a Contender? Yup, he was one Hell of a Pugilist!. Retrieved on April 27, 2014, from http://www.bajanreporter.com/2007/02/barbados-had-a-contender-yup-he-was-one-hell-of-a-pugilist/.
‹ Go back to the blog